VMworld Barcelona: Verslag van dag 2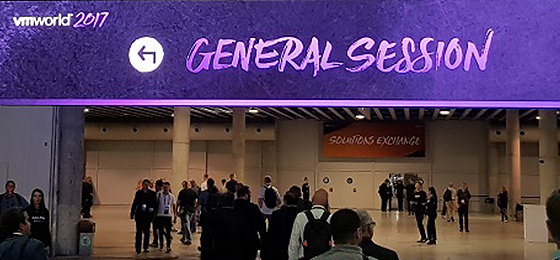 De tweede dag van de VMworld begon met de keynote, waar een aantal nieuwe leuke producten zijn gereleased.
Keynote
In de VMworld keynote is HCX officieel gelanceerd; hiermee kunnen workloads eenvoudig van private naar public clouds worden gemigreerd. Dit geldt in eerste instantie voor IBM Cloud en OVH (het voormalige vCloud Air). Meer info over HCX is te vinden via deze site. Ook is VMware Integrated Openstack 4.0 aangekondigd. Naast een leuke demo, met een virtual reality bril, waren er vooral veel consumer stories tijdens de keynote.
Solutions Exchange
Het aantal deelnemers aan de VMworld Solutions Exchange lijkt minder te zijn als voorgaande jaren. De stands van Lenovo en Dell EMC springen eruit. Voor VMware is een grote ruimte aan de achterkant van de hal gereserveerd, daar moet je dus even naar zoeken. De 'Meet the Experts bar' is verplaatst naar hal 8, hetgeen een zeer goede zet lijkt aangezien het hier de hele dag zeer druk is.
Breakout sessies
De breakout sessies waren vandaag allemaal de moeite waard. Vooral de volgende sessies zijn het terugkijken via YouTube waard:
PowerNSX – Bringing the power of Powercli to VMware NSX for vSphere
Feel the vRealize Network Insight: Overcoming operational challenges with NSX and Underlay Networking
Kubernetes networking with NSX-T deep dive (met alle content uit de Whisper sessie van afgelopen jaar)
Private sessies
De private/whisper sessies van vandaag gingen over Skyline, een nieuw product dat VMware GSS support gaat helpen bij het proactief voorkomen van problemen. Op dit moment wordt dit getest in de Verenigde Staten, en RedLogic staat inmiddels op de lijst met early adopters in EMEA. Mike Foley gaf een sessie over vSphere platform security, hierin is ook een stuk vSphere roadmap met ons gedeeld.
Hackaton
Robert heeft aan de hackaton van gisteren succesvol bijgedragen met een nieuwe Ansible code voor de GIT community. Helaas zat hij niet in het winnende team, maar hij heeft wel een hoop lol gehad.