Presentaties RedLogic op de NLVMUG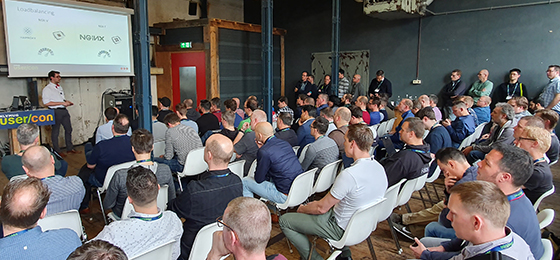 Ook zo benieuwd naar de presentaties van Matts Bos en Robin van Altena van RedLogic tijdens de NLVMUG 2019 anderhalve week geleden? In dit blogartikel meer informatie, inclusief een link naar hun presentaties.
NLVMUG 2019 in DeFabrique Utrecht
DeFabrique in Utrecht vormde dit jaar voor het eerst het toneel voor de jaarlijkse community dag van VMware. Tijdens dit evenement hebben Matts Bos en Robin van Altena een 3-tal sessies gepresenteerd.
NSX Microsegmentatie; van flow naar security policy
De eerste presentatie volgde redelijk snel op de keynote. RedLogic heeft al meerdere jaren presentaties over microsegmentatie gegeven, toch was de insteek dit jaar compleet anders. Robin begon met een korte uitleg over segmentatie, microsegmentatie, zero-trust en de bouwstenen van NSX-V voor het maken van firewall regels. Daarna nam hij het publiek mee in een uitleg over de Security policies van NSX-V en waarom deze een toegevoegde waarde bieden bij het invoeren van microsegmentatie. Als laatste stond Robin kort stil bij het maken van de security policies en welke VMware tooling daarvoor gebruikt kan worden.

Presentatie: NSX Microsegmentatie; van flow naar security policy

NSX-V vs NSX-T
Halverwege de middag was Matts aan de beurt. In zijn presentatie vergeleek hij de verschillen tussen NSX-V en NSX-T. Vooral de verschillen in Overlay, Routering en Loadbalancing kwamen uitgebreid aan bod. Daarnaast gaf Matts kort inzicht in de mogelijkheden die er zijn om NSX-T en NSX-V naast elkaar te gebruiken. Én wat er nodig is om van NSX-V naar NSX-T te migreren.

Presentatie: NSX-V vs NSX-T

VMware Cloud on AWS
Tegen het einde van de middag gaf Robin zijn tweede presentatie. Alhoewel er op de NLVMUG al veel verteld werd over de VMware Cloud on AWS, kon Robin de aanwezigen toch nog een aantal nieuwe dingen vertellen. Hij had er in zijn presentatie namelijk voor gekozen om het verhaal vanaf de AWS kant te vertellen. Hierdoor werd net een andere kant van VMware Cloud on AWS belicht.

Presentatie: VMware Cloud on AWS

Meer weten?
Wil je na het terug kijken van de presentaties nog meer weten over deze onderwerpen? Of heb je behoefte aan een meer uitgebreide uitleg of whiteboardsessie, neem dan gerust contact met ons op.