Presentatie microsegmentatie op de Infosecurity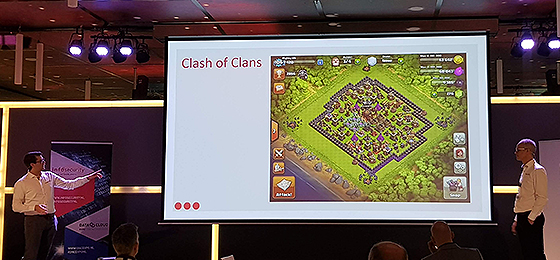 Op de Infosecurity, het congres over IT-security, datamanagement en cloud computing, gaf RedLogic vandaag een presentatie over praktijkervaring met VMware NSX en microsegmentatie. Robin van Altena en Matts Bos maakten een zaal vol geïnteresseerden deelgenoot van de belangrijkste ervaringen met (micro)segmentatie opgedaan door RedLogic in de afgelopen 1500 dagen.
Beveiliging in lagen
Het concept achter het eerste Software-Defined DataCenter (SDDC) dat door RedLogic is gebouwd vormde het onderwerp van de presentatie. De beveiliging van het datacenter bestaat uit meerdere lagen, waarvan er vandaag twee de revue zijn gepasseerd. Dit zijn de Palo Alto Firewall en VMware NSX. Een Palo Alto Firewall wordt als centrale perimiter firewall ingezet. Deze fysieke firewall zorgt in het concept voor de opdeling van het landschap in zones. De belangrijkste functie is het beschermen van het verkeer dat het datacenter in en uitgaat. Bij de opbouw is voor deze Next-Gen firewall gekozen aangezien deze de mogelijkheid had om Laag7 inspectie te doen. Iets wat VMware NSX destijds nog niet kon.
NSX & Microsegmentatie
De tweede laag van bescherming is de distributed firewall van VMware NSX. Door het gebruiken van deze distributed firewall is in de afgelopen jaren veel kennis opgedaan. Waarvan de belangrijkste zijn gedeeld in de presentatie. Aan de hand van de in de praktijk opgedane kennis is de inrichting van de distributed firewall meerdere keren aangepast en vormt dit nu de basis voor alle NSX implementaties van RedLogic.
Het publiek is meegenomen in de initiële opzet van de distributed firewall, welke was gebaseerd op een zero trust beleid. Dit bracht zowel voor- als nadelen met zich mee welke uiteindelijk leidde tot een aantal verbeteringen. Tijdens de presentatie gaven Robin en Matts daarom ook een blik op het model van 'Circles of Trust' waarin all deze feedback is verwerkt. Op basis van security policies en security groepen worden cirkels gebouwd, waarbinnen virtuele servers elkaar wel of niet vertrouwen. Door deze groepen slim in te richten kan de omgeving slimmer en flexibeler worden ingericht.
Circles of Trust
De basis van de Circles of Trust ligt in het gebruik van security policies en security groepen om de virtuele omgeving te segmenteren. Door de security policies slim in te richten ontstaan er verschillende lagen. Binnen deze lagen is het mogelijk een verschillend beleid toe te passen.
Presentatie
Wil je meer weten over de manier waarop wij microsegmentatie inrichten? Neem dan contact op met Robin of Matts of bel met RedLogic.