AWS Architecttraining voor het team van RedLogic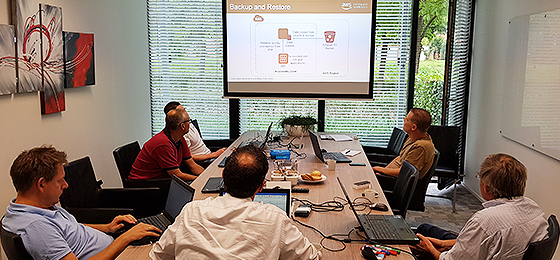 Deze week heeft een groep van zes RedLogic collega's de training 'Architecting on AWS' gevolgd. Onder de bezielende leiding van trainer Sjoerd Veldhuijs werd het team in sneltreinvaart meegenomen door de cloudpropositie van AWS. Voor sommigen was dit de eerste kennismaking met dit platform, voor anderen was het al meer gesneden koek.
Hoog beschikbaar AWS design
Na de uitleg van de basisdiensten van AWS, en nadat wij hiermee in labs hebben kunnen spelen, stond het maken van een goed hoog beschikbaar design voor AWS op het programma. Het grootste verschil met een VMware omgeving is dat redundantie niet vanuit het platform wordt geregeld, maar dat dit vanuit de applicatie moet worden gedaan. Dit vergt een andere manier van het ontwerpen en installeren van de applicaties. De heilige graal binnen AWS is om applicaties geheel 'serverless' te ontwikkelen met Lambda nodes en message busses (SNS, SQS). In veel gevallen betekent dit echter een compleet redesign van de applicatie.
'Ouderwetse' Containers & VM's
Wanneer een serverless architectuur niet mogelijk is, dan kun je de applicaties ook uitrollen op VM's (EC2) of in containers, maar dit wordt als iets 'ouderwets' gezien. Hoge beschikbaarheid wordt bereikt door meerdere applicatieservers parallel te zetten of door clusters te bouwen. Met meerdere applicatieservers parallel kun je ook on-demand capaciteit op- en afschalen, hetgeen handig is bij grote acties. Speciale aandacht moet worden besteed aan het design van de EC2 instances; standaard wordt de data welke je in deze instance opslaat namelijk niet bewaard.
Route 53
Het laatste onderwerp was Route 53. Dit is de DNS service van AWS, welke qua functionaliteit veel lijkt op de Infoblox Trinzic appliances. Met Route 53 moest een lab worden gemaakt, hierin stond een webserver verdeeld over meerdere AWS regio's. Er moest voor gezorgd dat wanneer de ene regio uitvalt, een webserver uit een andere regio dit moet overnemen.
De komende weken staat in het teken van het zelf verder studeren en het behalen van het bijbehorende examen, uit de vorige groep hebben inmiddels al 3 collega's hun examen behaald.